Pokud si o Vánocích, v době klidu, rádi něco zapaříte, pak jsem pro vás připravil následující infografiku, která zobrazuje hry, jak přímo z prostředí Fallout, tak hry významně ovlivněné Falloutím universem.
Snažil jsem se zachytit všechny hry, které mě v průběhu let zaujaly a rozdělit je do skupin podle toho jak se podobají mezi sebou. V průběhu víkendu ještě článek doplním o popis jednotlivých titulů, hodnocení a proč by vás (ne)měly zaujmout.
---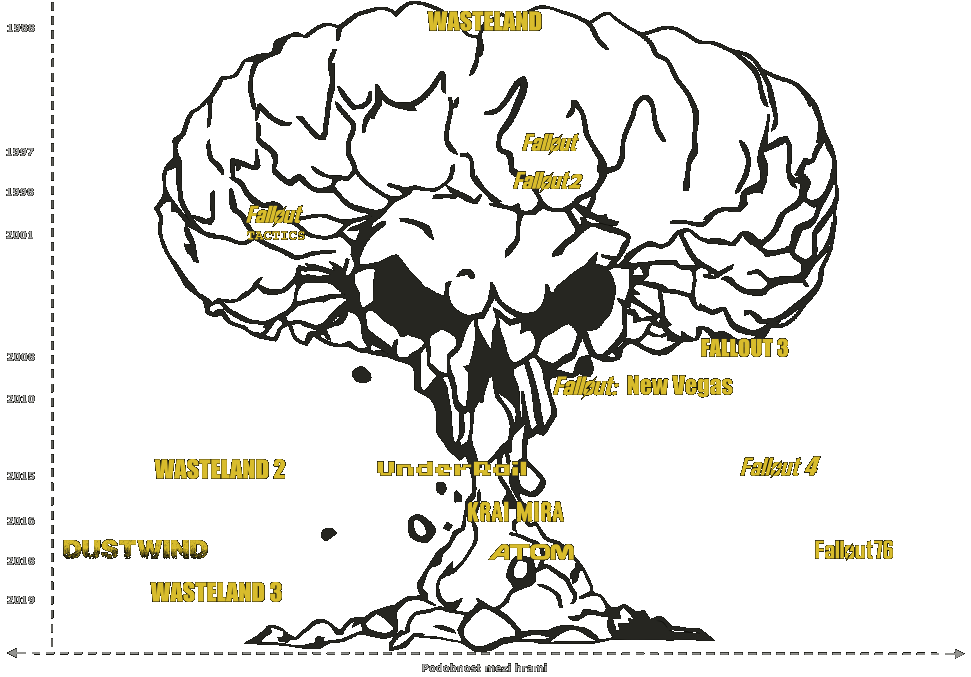 Wasteland
Předem je třeba říct, že Wasteland z roku 1988, je hra, která je už i na mě trochu oldschool, přeci jen hra, která je jen o pár let mladší než já, je už dneska určená spíš pro opravdové milovníky nostalgie. Jedná se o postapo RPG hru s otevřeným světem a velkým množstvím dialogů.
Ve své době byl Wasteland úspěšným titulem a měly ho následovat dva připravované díly série. Navzdory tomu na vydání těchto her nikdy nedošlo a většina obsahu z těchto, nikdy nevydaných, dílů se přenesla do nové herní série Fallout.
V roce 2014 jej autoři oprášili a původní hra je dostupná na GOG.com i na Steamu a to pro platformy – Linux, Windows a MacOS.
Hodnocení: Steam – Velmi pozitivní; GOG – 4.5/5; Skynet – 4/5
---
Fallout
Klasika všech klasik, praotec všech dobrých dnů. Postapo isometrické RPG, otevřený svět, nekonečné možnosti, desítky modů, které i po více než dvaceti letech poskytnou skvělý herní zážitek.
Pochybuji, že by někdo z vás tuto hru nehrál. Nicméně pro úplnost tady být prostě musí.
Hodnocení: Steam – Velmi pozitivní; GOG – 4.7/5; Skynet – 4/5; Metacritic: 89 / 8.8

---
Fallout 2

Pokračování Falloutu, větší svět, více NPC, více zbraní, vylepšené UI atp. Jedná se o Fallout, dotažený k dokonalosti, bohužel dnešními RPG absolutně nedostižný a to především ve svých špičkových dialozích.
Nezapomenutelný je hlavně díky nim a specifickému druhu humoru, který, bohužel, žádná z dalších her zde uvedených nenabídne (výjimkou je snad jen Fallout: New Vegas).
Hodnocení: Steam – Velmi pozitivní; GOG – 4.8/5; Skynet – 5/5; Metacritic: 86 / 9.1
---